March 16, 2020
We are proud to announce that Pertemps is sponsoring one of the UK's longest running annual awards once again.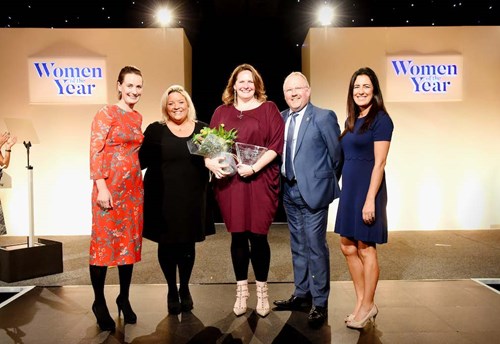 Jennie Johnson MBE, Business Women of the Year 2019 (pictured centre) with Anita Robinson, Emma Elston MBE, Mark Smith and Anthea Frost (L-R)
Now in its 38th year, the Women of the Year Luncheon & Awards celebrates the achievements of exceptional women, highlighting individuals who have made an outstanding contribution to their business, chosen sector or the wider community.
Taking place at the Birmingham Hilton Metropole on Friday 16th October, the Women of the Year Luncheon & Awards has two exclusive categories open for applications, Business Women of the Year and Women with Edge.
Carmen Watson, Pertemps Chairwoman, is on the Women of the Year's judging panel. As one of the UK's most successful businesswomen herself, she knows exactly what she's looking for in an award-winning applicant.
Carmen's passion and commitment is not only reserved for recruitment. A long-term supporter of diversity in the workplace, she has been one of the foremost speakers on women in the boardroom and passionate about inspiring more women to reach top positions in business.     
She comments, "Pertemps has been a long-time supporter of the Women of the Year and we're delighted to again be backing this event. The event recognising successful women who have achieved extraordinary milestones in their lives and careers and, through sharing their experiences, become fantastic role models that encourage other women to aspire to reach their true potential 
"Whatever your business, we all know and work with inspirational women whose achievements – particularly in traditionally male dominated industries – do not often get the recognition they deserve. It's thanks to WOTY, and this year's charities Elle for Elle and The Princes Trust, that we can give credit where credit is due."
So, if you are an extraordinary businesswoman who has accomplished great success or if you know somebody who is, get applying! There is no reason not to – this is a fantastic opportunity to shout about women's successes and one that cannot be missed.    
To nominate or submit an application, please visit www.womenoftheyear.org.uk/nomination-form/. To purchase tickets to the Women of the Year Luncheon & Awards 2020, please visit www.womenoftheyear.org.uk/ticket-sales/.