May 04, 2020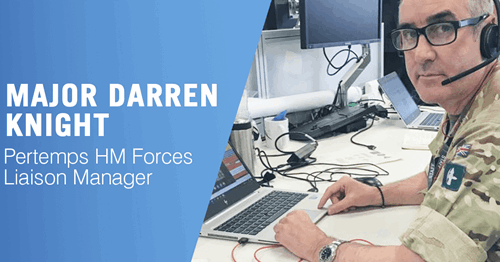 "Even in our darkest moments, the crisis has shone a light on the best amongst us."
Those were the words of Foreign Secretary, Dominic Raab, at a recent media briefing to update the nation on the UK's fightback against coronavirus.
He paid tribute to our 'brilliant' armed forces and the role they have been playing in helping to build new NHS hospitals to reinforce critical care, supporting Local Resilience Forums and delivering PPE to the areas where it's needed most. The armed forces have also been key in setting up mobile labs to ramp up virus testing across the country.
Pertemps has a strong relationship with the armed forces fostered by a 'Forces Liaison Team' who find jobs for service leavers, reservists and the wider community. Our work in this area was commended by the Ministry of Defence who awarded Pertemps with a coveted Gold Award in 2016.
At the heart of this team is Major Darren Knight, HM Forces Liaison Manager for Pertemps, who uses his experience, contacts and respect to assist the military community in finding jobs with Pertemps in all manner of civilian roles.
With the full backing of Pertemps, Darren has taken a break from his usual business duties to support the nation during this critical time. He is working in the Ops Centre at the Department for Health and Social Care (DHSC) in Westminster.
He explained: "102 Logistic Brigade HQ has 15 Army Staff Officers working on supporting Regional Test centres nationally. Each Regional Test Centre has affiliated Mobile Test Units which we are training and deploying where there is a need. I am grateful for Pertemps for supporting me in this initiative which, in turn, is supporting the national effort."
Pertemps Managing Director, Kent Thompson, paid tribute to the role Darren is playing on behalf of the country, saying: "Since joining us in 2015, Darren has always put the needs of others before himself so I am not surprised to see him on the frontline doing what he does best – supporting those who need help the most. We send him our very best wishes at this time."
Darren joined the Junior Leaders Regiment in 1985 at the age of 16, completing 23 years of service and rising from the rank of driver to Warrant Officer Class One. He left the army in 2008 and commissioned into the Army Reserves, being promoted to Major in 2014.
To find out more about Pertemps' Armed Forces Support programme and career paths for service leavers, veterans, reservists and the wider military community, visit www.pertemps.co.uk/about-us/pertemps-armed-forces-support
Call 01827 899234
Email: forcesliaison@pertemps.co.uk