March 05, 2020
Endorsed by Teamworks and open to all, Pertemps national Go Karting championships, one of the largest teamworking events has ended.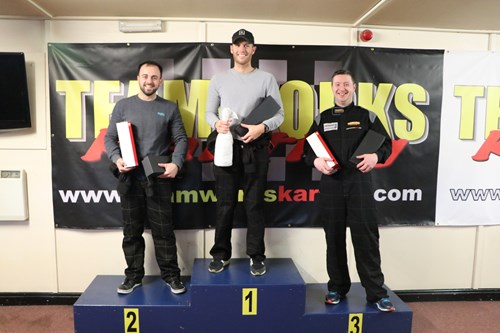 Pertemps Nottingham Technical Recruitment Consultant, Owen Bolton, came in third place with Jamie Brown, Branch Manager at Didcot Industrial, racing in at second place. However, James Tomlin was crowned Pertemps Go Karting Champion after showing his true talent with some very close racing at the Nottingham venue.
The Pertemps Go Karting Championships consisted of 450 competitors, 18 heats and 2 semi finals on tracks up and down the country, all for the chance to win an amazing all-expense paid trip to the Monaco Grand Prix.
Tim Jones, Head of Marketing and organiser of the event, said: "After organising the Go Karting competition since it first started in 2013, I've seen it grow bigger and bigger each year. This year more staff than ever took part and there were extra heats added in Edinburgh, Bristol and London to answer the huge demand."
James Tomlin from Pertemps Medical, said: "What an amazing experience, the racing was extremely fun yet also very tough against some serious competition. Well done to everyone that made it to the Grand Final in Nottingham, which is an achievement itself with so many people entering across the country. Tim Jones has yet again done an amazing job of organising such a huge event, hats off to him, he deserves some sleep!!! Also, a huge thanks to Tim Watts for providing some incredible prizes, especially the trip to Monaco for the F1 GP…I cannot wait!!! Thanks to all involved in making this happen and well done to all the people who competed…same again next year?"
Everyone who took part also received a commemorative jacket, specially made for the event.
A huge thank you to everyone who took part in this year's competition and congratulations to James Tomlin for coming top! We look forward to seeing you all in 2021.