July 20, 2021
Young stars from Dorridge Cricket Club bowled over the opposition to win the Warwickshire Cricket Board under-15s Standard Championship in a fixture postponed from last September.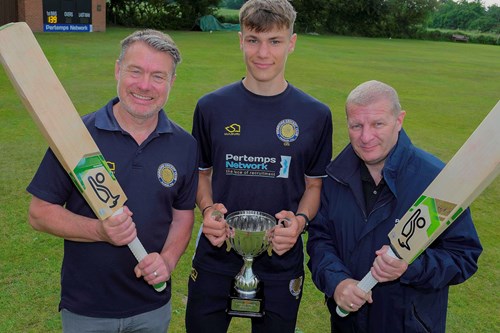 (L-R) Dorridge Cricket Club Head of Junior Cricket Paul Rastrick, George Sitch, Captain of the winning WCB 2020 Under 15 standard competition, and Tim Jones, Head of Marketing and Sponsorship at Pertemps 
The Pertemps-sponsored team beat Moseley by 33 runs in the fiercely fought match, held at the Edgbaston Foundation Ground.
The two teams had been due to meet in September 2020, but Covid restrictions put the fixture on ice.
There was no stopping the Dorridge team when they finally took the field though, putting in an impressive all-round display to lift the trophy.
Paul Rastrick, Head of Junior Cricket at the club, which has been backed by Meriden-based Pertemps for a number of years, said: "They bowled and fielded brilliantly and I couldn't be prouder. It was a great all-round performance from the team.
"They struggled at the start and were 2/2 at one point, but rallied to finish on 158. They then fielded excellently to win by a good margin.
"We are really grateful to Pertemps for their ongoing support for all the teams here at Dorridge."