July 06, 2021
Local lawyer Greg Lowson has completed his second challenging 100-mile charity run – with a little help from his friends.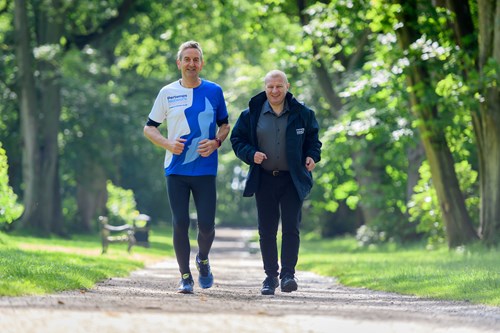 The former President of the Greater Birmingham Chamber of Commerce and Under Sheriff of the West Midlands passed the finishing line in Dorridge Park this week after completing the distance in 45 days on a series of local runs.
The solo challenge mirrored one he completed with his 21-year-old daughter, Ellie, last year, and he has now raised a total of £17,000 for a number of charities, with a little help from Pertemps, who were there to see him pass the post.
"It started originally because we were inspired by Captain Sir Tim Moore during lockdown," said Greg, aged 61, a partner at Pinsent Masons and head of the Birmingham office."My daughter and I decided we would run 100 miles in 50 days to get us doing something during lockdown. We actually did it in 42 days and raised a lot of money for four local charities while doing it."Since then, I had been a bit of a couch potato while my daughter has carried on running and has just completed the Exeter half-marathon. I needed to do something to get some exercise so thought, why not do it again and raise some more money?"It has been hard work, but I have had so much support from family, friends, colleagues and local firms. Pertemps, for instance, has donated £1,500 to the cause, which is wonderful."
The money from this year's run will be going to the Birmingham and Solihull Women's Refuge, LandAid, to help local homeless, and The Peer Hub project, at Birmingham Children's Hospital, aimed at recruiting mental health mentors for young people.
Tim Jones, Head of Marketing and Sponsorship at Pertemps, said: "There are so many local good causes and we always do what we can to support the communities in which we work."We were happy to help Greg boost his total to give to these local charities."