October 01, 2020 
Business leader and West Midlands Deputy Lieutenant Tim Watts, Lifetime President of Pertemps, has this week demonstrated his passion for and commitment to the art4charity collaboration with the purchase of an iconic print of the Forward in Unity mural, backed by a generous donation towards the initiative's fundraising efforts.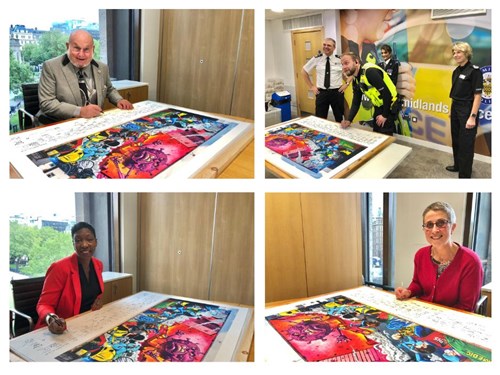 L-R Tim Watts - Lifetime President of Pertemps, Martin Brion - Police Constable West Midlands Police, Patrica White - CEO Suited for Success UK and Annie Murray - Best Selling Author
The mural, located in Meriden Street in Digbeth, represents the centrepiece of art4charity's debut project, with prints serving as the driving force behind subsequent fundraising efforts. As a commemoration of Birmingham's response to COVID-19, Mr Watts was invited to act as one of 250 signatories on the largest prints, showcasing outstanding individuals of now and in the future from across the community.
While delighted to sign the prints, he elected to go a step further, not only purchasing one of the larger prints but simultaneously making a significant donation that propels art4charity rapidly towards its targets.
Commenting on his contribution, Tim Watts said: "I'm a massive fan of taking action, and to see a project like art4charity come together so quickly and with such significant charitable aims clearly demonstrates the spirit of people from across the region.
"I'm extremely proud to have been asked to contribute my signature to the prints and supremely enthusiastic about contributing to the fundraising efforts that intend to ensure that some of Birmingham's most essential charitable causes emerge from the pandemic well-equipped to continue their incredible work."
Paul Cadman, Head of Communications at art4charity, said: "We initially contacted Tim as part of our efforts to include some of the most notable individuals from Birmingham's business community among the signatories on our Forward in Unity prints. To see that initial contact transform into this fantastic donation to the cause is overwhelming and something for which the Lord Mayor's charity and we are massively grateful."
art4charity continues to raise funds for the Lord Mayor's charity, which will subsequently distribute the proceeds to notable Birmingham organisations including St. Mary's Hospice, Acorns and SIFA Fireside. Prints can be pre-ordered now at https://art4charity.co.uk/prints-posters/ prior to the official release. art4charity also invites donations at https://www.justgiving.com/fundraising/art-4-charity.