February 02, 2020
Pertemps employees in Meriden have smashed records by donating £11,239 to both of their chosen charities the Giles Trust and Doorway.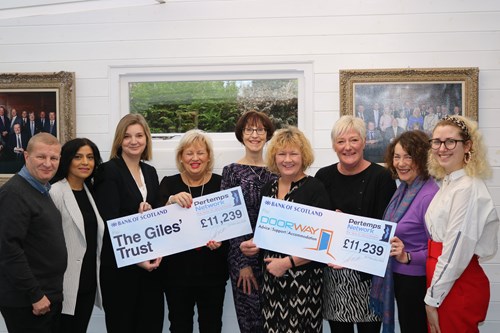 Events such as the Pertemps Masquerade Ball and the give as you earn scheme, where Pertemps employees dress down every Friday, has raised awareness and vital funds for both charities.
Doorway representative, Pat Dickins, said "The generosity of Pertemps and their employees, has been overwhelming! Their continuous contributions will help us support the homeless within our local community to ensure they get the help, support and care they deserve"
Cathryn Worth from the Giles Trust said "Pertemps have been amazing the past year. Their donations will help to fund vital research into brain tumours at the Queen Elizabeth Hospital, Birmingham."
Last year saw a new approach in fundraising for Pertemps, as they held their first masquerade ball where attendees enjoyed a seated three-course meal with entertainment and various goodies up for grabs including a chance to win a once-in-a-lifetime mini-break experience in the magnificence that is the 2020 Rudolfina Ball in Vienna and a live-broadcasted auction, which raised a record amount of £13,942 for the Giles Trust and Doorway.
Doorway is a charity based in Warwickshire providing advice, accommodation and support for young homeless people aged 16 – 25.
Doorway representatives: Pat Dickens, Carol Haden and Carol Gallagher 
The Giles' Trust brain tumour fund was set up by England cricketer Ashley Giles and his wife Stine, to raise money to fund vital research into brain tumours at the Queen Elizabeth Hospital Birmingham.
The Giles' Trust representatives: Cathryn Worth and Karen Jones 
Pertemps are dedicated in investing and supporting their local community through their corporate social responsibility programme and have donated more than £100,000 to their nominated charities; which are chosen by their staff each year.