January 28, 2020
The DofE Ambassador training at Coventry Fire Station was a huge success with 22 DofE participants representing 11 schools from across Coventry, Warwickshire and Worcestershire.
The purpose of the event was to train each young person to become a DofE Ambassador in their school, each taking away a certificate and badge at the end of the day to celebrate their success.
Last year Pertemps contributed almost £5,000 to the Ambassadors Fund to help transform the life chances of 100 local young people in Coventry and Warwickshire.
The role of a DofE Ambassador is to support DofE delivery to other participants at their school. Duties can range from hosting eDofE training sessions, to being responsible for DofE noticeboards, to organising expedition kit stores. The DofE Ambassadors can use the role as a volunteering activity, developing their leadership and mentoring skills as well as having something extra to put on their CV or personal statement.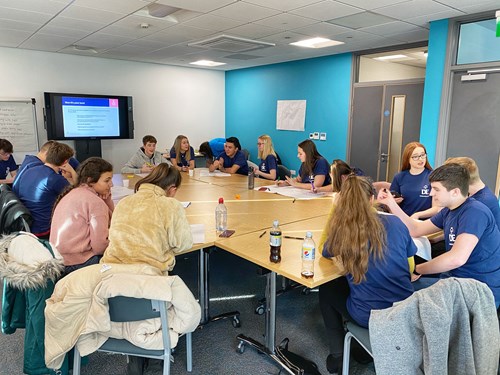 Operations officer and course tutor Victoria, oversaw the training day, providing the young ambassadors the opportunity to improve their public speaking and confidence. At the end of the training, the participants were paired up in their schools and presented to the group, sharing their DofE experiences as they would do at an assembly or parents evening.
Victoria said "It was so great to see how confidently they all spoke and how much they had grown and improved, even just in a few hours. I was particularly impressed by the young people who had come by themselves and did independent presentations – not an easy task! The group then gave lots of positive feedback and it was lovely to see them encourage and build each other up."
Victoria added "It was a really positive day and I know we will have confident, inspirational Ambassadors in all of the schools who attended." 
Find out more about the DofE, www.DofE.org