Today, the idea of 'hard work' seems to mean working yourself into the ground. The phrase 'work hard, play hard' is thrown around as a positive, when in fact it conjures up images of late nights, deadlines, time away from home and stress. Burn out can affect each and every one of us in our day (or night!) jobs.
Burn out is described as being in a state of chronic stress, which can lead to physical and emotional exhaustion, cynicism, detachment and feelings of ineffectiveness. You may not notice a burn out until the symptoms become severe, so ensure you stay clued up on the signs:
Fatigue or long-term tiredness
Insomnia
Forgetfulness
Finding it difficult to make choices
Physical symptoms such as heart palpitations, shortness of breath or headaches
Loss of appetite
Frequent illness
Anger or irritability
Signs of depression such as hopelessness or deep sadness
Poor performance
Apathy towards work or enjoyable activities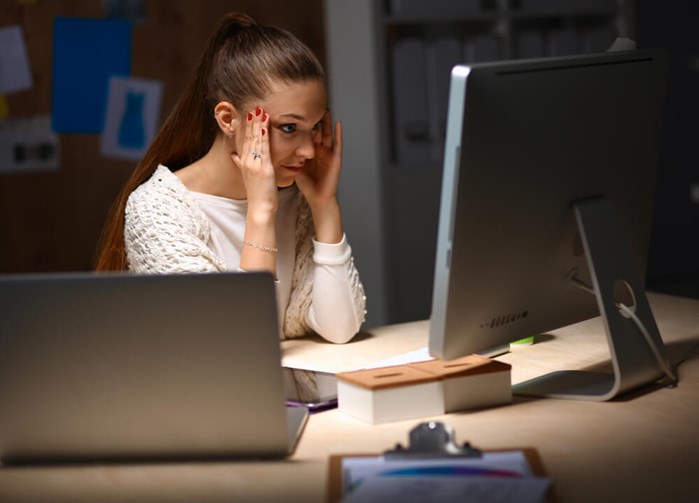 Recognise it
If you're not experiencing these symptoms, great! Though it's a good idea to keep these signs in mind in case you find work takes its toll on you in the future.
If the above sounds familiar, it may be time to consider some serious changes to your lifestyle. While you may expect your work to stay at the same hectic pace, there are some steps you can take to help keep you in the race.
Reach out
Speak to a friend or family member
If you're feeling isolated, air your feelings to a friend or a family member. They may give you the confidence to face the issue and make changes. 
Speak to your manager
The next step is to talk to your manager about your issues. If they are unavailable, a HR professional should be on hand to help. If you find it difficult to find the words, make a few notes before your meeting. Make sure you try to remain professional rather than emotional but do not underrate your concerns.
Speak to a healthcare professional
While the tips in this article are meant to help, a healthcare professional will be able to give you a real diagnosis. Ensure you visit a healthcare professional and talk to them about your concerns.
Practice self-care
Overdosing on caffeine, turning to alcohol, binge eating and getting little sleep will hinder your ability to manage stress. Be honest about your habits – could you be taking better care of yourself?
Seize opportunities
If an opportunity comes up to get away from work or spend time with friends – make sure you seize it! Breaking the routine can help give you a new perspective and build an important support circle.
Make changes
The most important step is to start making modifications to your lifestyle. You may not be looking to change jobs as a first solution, but small adjustments can lead to a big transformation.
To your job
If you've chosen to open up to your manager about your issues, you should hopefully have some options for managing your workload.
However, if you're finding you are tackling the task solo, you may wish to incorporate some new organisational habits or delegating where you can.
To your home life
'Turning off' from the daily ups and downs can help you arrive at work feeling refreshed. Our suggestions below may help:
Set appropriate bed times for yourself
Cut out the use of electrical devices after a certain time
Make sure you speak with your family and keep them updated on your day-to-day goings-on
If you are facing negativity from certain individuals, limit your time with them as best you can
Make time each week to focus on your hobbies and interests, even just a small activity such as listening to a new album, cooking or visiting somewhere new
Try your best to cook healthier meals so your body is fuelled for your working day
Don't take your work home. As tempting as it might be, try to leave your work at work!
To your career
At Pertemps, we are big believers in finding the right work/life balance. If you're finding your job is seriously affecting your health, you may want to consider a change of scene.
Invest in the long-term
As the phrase goes 'it's a journey, not a destination.' Make sure you don't place further pressure on yourself to transform your life overnight. Take small steps at first to help things for the better and avoid burn out when it strikes.
At Pertemps, we're experienced in working with a huge range of employers. With over 3,000 vacancies online now, why not search for your next role today?