This week I was part of some interesting and thought-provoking discussion on the panel at the Greater Birmingham and Solihull Local Enterprise Partnership Conference 2018.
Held at the Birmingham REP, the conference included an update on the LEP's progress in the region as well as talks from Peaky Blinders creator, Steven Knight, and Mayor of the West Midlands, Andy Street.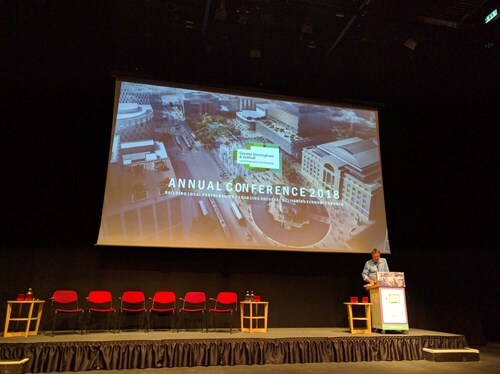 The conference highlighted the positive progress Birmingham and the West Midlands has made in the past 12 months.
There has been huge investment in the region, including in transport with HS2, in construction and housing, with £350m granted from government for new builds. As well as this, the Commonwealth Games are going to be held in Birmingham in 2022, and Coventry won the UK City of Culture title for 2021. Birmingham is the most entrepreneurial city outside of London, with 12,108 new businesses set up last year. It's great to see so much growth and development going on in the region I call home.
However, despite lots of positive moves to improve jobs growth, millennials in Birmingham have one of the highest unemployment rates in the country, according to the Office for National Statistics.
Only 70% of 25-34-year olds in the city were employed in 2017. Millennial unemployment in the city is twice as high as the national average – this is a point Andy Street highlighted at the conference; and it's a point that needs addressing. In such a vibrant and exciting part of the country, how are so many young people missing out?
The recession back in 2008 has taken a toll, as many 25-30-year olds found it difficult to get into work and missed out on the opportunity to develop key skills. As the economy improves, it's vital that the generation get a chance to thrive and succeed.  
Millennials will make up 75% of the workforce in the next ten years, so to attract the best talent, businesses must work on their diversity and inclusion strategies to reflect on the society we live in.
Young people expect these initiatives to be the norm and celebrate people for their differences. To tap into a vast pool of talent, it's time for more businesses to put diversity and inclusion at the forefront of their policies so people from all backgrounds feel supported and confident that they can do well in a range of different industries.  
At the conference, I pointed out that companies with at least 30% female leaders had net profit margins up to 6% higher than companies with no women in senior ranks. Also, companies in the top quartile for racial and ethnic diversity are 35% more likely to have financial returns above their respective national industry medians, according to an EY report.
I called on the LEP to help and encourage organisations they work with to place diversity and inclusion at the top of their policy lists.
Embracing different ability, age, ethnicity, gender, disability, race and sexual orientation will build a better working world, where everyone feels encouraged to work together toward success.
So, to support growth, diversity must be championed and celebrated, and workforces must reflect on the society we live in. The next generation of employees need to be given the opportunity to develop the skills and confidence to flourish. Hopefully, in Birmingham, we will see employment rates among millennials rise as opportunities increase in the city.
At Pertemps, we work hard to diminish unconscious bias from recruitment practices. Managers receive unconscious bias training when they start with us. Year on year, we appear in the annual Best Employers for Race listing. Think about your recruitment practices – are they ethical? Bias starts with a person's name on a CV. Even if we don't mean to, we can unconsciously discriminate against people in business, and this needs to change to progress.
For more of my thoughts, head to https://www.pertemps.co.uk/employers/resource-centre/carmens-thoughts/
To find out more about the LEP and the work they do, go to www.gbslep.co.uk