Want to know what it's like working in Graphic Design? The creative profession is one of the best out there, but also one of the most demanding. Before deciding if you want a job in Graphic Design, hear what some of Pertemps' pros have to say.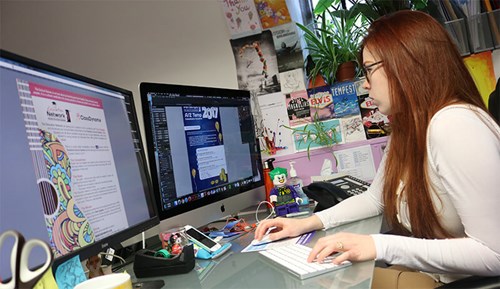 Responsibilities
Sitting in the Marketing department at Pertemps is the Graphic Design team – Juliette, Ben and Steve. Senior Graphic Designer, Juliette Haines, tells us more about her role: "My job involves completing a variety of projects across digital and traditional print. This can be anything from creating brochures and posters to animation, web design, photography and filming. My other responsibilities include the up-skilling and management of the graphic design team."
Graphic Designer Ben Plant added: "I make sure all the branches and companies across the Pertemps Network have the artwork they need for any marketing promotions they are running with and sorting out any events they want."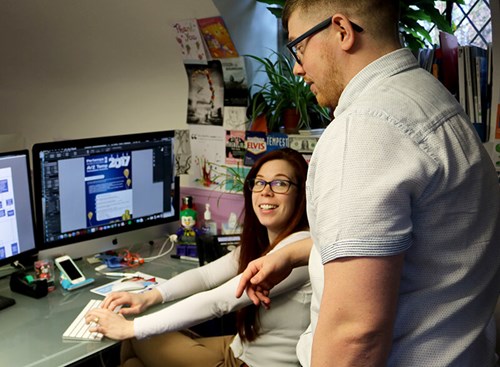 Challenges
Like in any job, challenges are faced day-to-day. As Pertemps is such a huge company, there are bound to be a few tough situations at times.
Juliette said: "My main challenge is making sure that all deadlines are met. You often get urgent requests that need to be completed within a few hours so you need to be able to juggle your workload well."
Ben said:
"Creating artwork that will keep both the company and client happy in a short amount of time is a challenge I often face."

 

Best bits

Although there are challenges, there are also lots of great reasons to work in Graphic Design. If you're imaginative and have a great eye for detail, it could be the perfect job for you.

Ben said: "The best bit about my job is that I'm able to use my creative side. Plus, being part of the team is great – we're more family than just colleagues because we spend so much time working together. You don't really get that anywhere else."  

Juliette adds: "I love the variety; you never get bored. I can be designing marketing material for an event one day and out filming interviews in a branch another day."

 

Hints 'n' tips

Juliette said:

"If you're creative, good at working to tight deadlines and coming up with new ideas, then find a good training course and get learning the tools of the trade!"

So if you're interested in getting into Graphic Design, go for it! Have a look at the relevant qualifications and skills you need and get working towards your end goal – to get that job. 

 

Want to read what it's like to be a Recruitment Consultant? Read our Article!