Ever wondered what it's like to be a recruitment consultant? It's one of the most challenging jobs out there, but also the most rewarding. At Pertemps, we are dedicated to finding the right people for the right job day in, day out. We are continuously on the lookout for new consultants, so if you've always fancied a career in recruitment, have a peek at what two of our employees think of the job…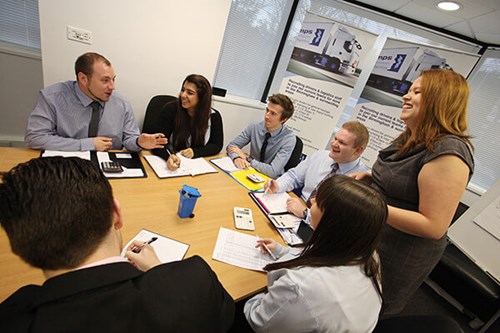 Main responsibilities
Paul Heard is a Transport Consultant at Birmingham Industrial. Driver jobs are in high demand so his day-to-day workload is pretty jam-packed. He said, 
"My main responsibilities as a Recruitment Consultant are to generate new business and to build and sustain relationships with clients to develop a better understanding of their business. I also attract and interview candidates and match them to roles which will suit them, whether it be temporary or permanent."
Challenges
Recruitment Consultants deal with lots of tricky situations. Consultant at Coventry Commercial Jamie Bloomer said, "Sales is the most difficult part for me. Convincing a new client to use our services can be quite hard at times, especially if they don't want to listen to you."
Paul said, "The most challenging part of the job is definitely the rejection from clients, although there is always a way to overcome these rejections and turn them into positives.
"Manging expectations of both the clients and workers can be difficult, it is not always easy to give both parties exactly what they want, so you have to try to find the right balance between the two and keeping everyone happy."

Best bits

It's not all challenges however. There are plenty of fantastic parts to the job. Paul tells us his favourite bits about his role, "My favourite part of the job is definitely the buzz of bringing on a new client, especially if you have been calling them for months or even years! That is a great feeling and one which spurs you on to keep going and canvassing.

"Another part of the job which I love and get a great thrill from is placing someone into a job that suits them and they really enjoy leading to positive feedback from the client."

Jamie added,

"My favourite part of the job is the team I work with. Having great people to work with motivates me and makes me want to do well."

Hints 'n' tips

If you're serious about getting into recruitment, here's a bit of advice from our consultants. Jamie said, "Do research into the job, take as many training courses as you can. Start out as a trainee consultant to get the right assistance and you'll be a pro in no time!"

Paul said, "Be persistent, it will always pay off in the long run. It isn't going to be easy, so expect a bumpy ride, but the rewards are there for the taking if the hard work is put in! It is a great career to get into that doesn't need any particular qualifications, it is just all about being a people person and hardworking!

"I would also say that being honest with both your clients and workers is very important, it can be very easy to gain a bad reputation within the industry!"

Whenever we have spoken with a Recruitment team, we often hear the same thing; 'Every day is different'. If you're looking for an exciting career with endless earning potential and a company that cares about their workers - you might want to investigate working for Pertemps yourself...