So are a third of people we surveyed…
We spoke to 5,000 people about job satisfaction and around 2,000 people said their job makes them miserable, with 35% claiming the reason is because their work is dull and uninspiring.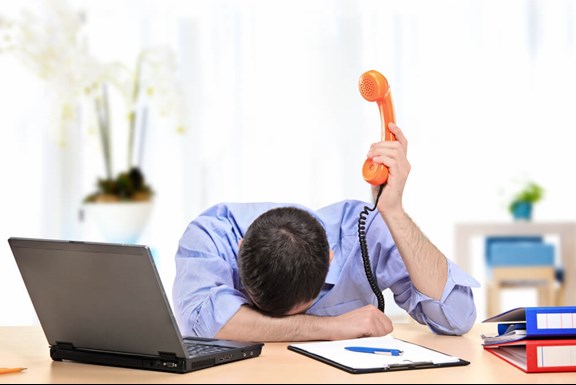 29% of those surveyed said the lack of opportunities for growth in their workplace meant they didn't enjoy their job. Others said not getting on with their colleagues and being unsatisfied with their salary has led to wanting to find a new role. 12% said they're unhappy because their boss doesn't support them.
So, what do you do if you've fallen out of love with your job? Before you completely write-off your current role, try and reignite the spark and passion you once had.
Keep in mind that even the most amazing jobs in the world have their drawbacks. Being Prime Minister might be hugely satisfying but you have to deal with some tedious issues too (Brexit ring any bells?). Hollywood actor sound good? Dealing with paparazzi and the press – not so good! Michelin star chef? Sounds pretty stressful to us…
Whether you're in a manual job or sit at a desk in an office every day, there are boring parts of all professions. Sometimes your inbox might completely dry up for hours and you wonder if it would really matter if you sneaked out early to beat the rush hour traffic. But on these mind-numbing days, remember there will always be hectic, busy ones, so try and enjoy the lulls when they come along.
A big cause for dissatisfaction is feeling like your work doesn't make a difference. Thinking 'what's the point?' can make you unmotivated and down. However, whatever you do, you are making some sort of difference, no matter how big or small. Are you brightening someone's day? Delivering great customer service? Working toward wider company goals? Elevating a brand? Take a step back and recognise the importance you have and the greater cause you are contributing to. 
Maybe it's time to take on more responsibility? If you're bored, it might be because your work isn't challenging enough anymore. Take initiative and approach your manager and tell them you are ready for more responsibility. If they don't listen (12% of you said your boss doesn't support you!) then maybe it is time to look elsewhere…
Pertemps can help if you're feeling uninspired in your current role. Get in touch with us today to discuss your future career and new opportunities.