It's the most wonderful time of the year and the most anticipated diary date – the work's Christmas party! Although it's a time to celebrate the company's accomplishments and thank all employees with a splash of glitz and glamour and fancy food, it's also rife with blunders, from forgetting names of fellow colleagues and clients, to overindulging in the free bottles of champers! Here are some essential tips to survive the evening and have an epic time:
Leave the drama behind
The Christmas party is a time for bad karaoke, so save your vocal chords and don't get into any arguements with colleagues. If you feel there is simmering tension between you and a coworker, it's best to steer clear when the alcohol is flowing. Instead smile, say hello and keep your distance!
Avoid the misletoe
Despite the Christmas surroundings and the dose of Dutch courage, the Christmas party is not the right place or time to declare your love for your office crush – remember that there are many other colleagues watching you!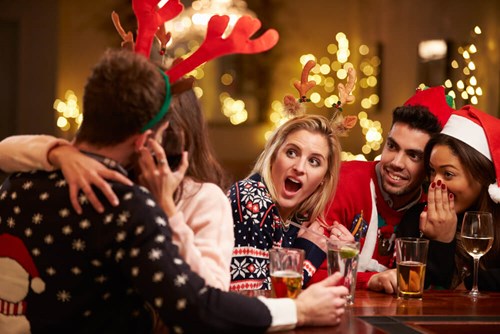 Mingle
Everyone knows that having your work pals by your side makes the Christmas party a lot more interesting! Although it can be tempting to stay within your safety net, the Christmas party is a great opportunitity to mingle with people you otherwise wouldn't have much contact with, like the CEO and other senior staff.
Avoid the work chat
There is plenty of time to talk projects, pending deadlines and potential meetings at work. The Christmas party is exactly that – a party! So have fun, relax and let your personality shine. Just remember, although you might be getting pally with your boss - this is not the time to ask for that payrise you've been wanting or asking if you can leave work early come Monday!
Keep it classy
Although the mood might be casual and it's a time to unwind with colleagues, it's worth remembering you are still at a work event. Avoid any offensive jokes and swearing, always maintain your manners and dress to impress – avoid wearing anything too revealing that may shock.
Turn up to work the next day
If you're one of the unlucky ones that didn't book the day off work, word to the wise - make sure you turn up in the morning! Your boss won't believe a sudden deathly fever has taken hold of you, when you were singing your heart out to Mariah Carey a couple of hours earlier.
Beware social media
Filming your colleague slidng across the dancefloor shirtless or drinking six pints one after the other is funny at the time and worth sharing with the world. Posting on social media could potentially land you in hot water. Remember you and your colleagues are representing the company and clients may be checking your channels. It's best to keep a professional demeanour online and save your funny videos for a drink down the pub.
If you're in need of some more advice about life on the job, check out the rest of our blogs.