To bring awareness to Road Safety Week (Founded by Brake) as well as the arrival of Winter, Pertemps bring you a few tips on driving in the cold weather*.
As the UK's largest supplier of agency driving staff, we take safety very seriously. In fact, we offer a range of comprehensive training schemes through our driving website for new and existing drivers to improve their skill set.
It's important to take precautions when you drive in adverse weather as road conditions can suddenly change very quickly.
*These tips are meant as suggestions and should not be taken as a full comprehensive guid on driving in the winter. If you are concerned about the type of conditions you are facing, seek further help by contacting your breakdown service or the ROSPA website. 
Firstly, is it a necessity for you to drive?
Is it an occasion that could wait for clearer weather? If yes, avoid venturing out until things look calmer. If not, prepare yourself and your vehicle for your journey.
Checklist
If you are expecting your journey to hit bad weather, make sure to stock the following items in your car.
Ice Scraper
De-icer
Warm clothes including warm socks and boots
Blankets for you and your passengers
A first aid kit
Food and a warm drink in a flask
Reflective warning sign
A shovel
A working torch
A spare phone battery or portable charger

Alternatively, a spare phone fully charged and turned off in your car will also work (Though keep it out of sight when you leave the vehicle)

Road atlas
Breakdown cover details
Before You Set Off
Ensure you check your route for any bad traffic incidents
Check the weather forecast for severe weather
Consider any alternative routes or transport
Tell someone your destination and the time you are expected to arrive
Ensure you have enough fuel before you set off
Visibility is the key to driving in bad weather - Ensure your windows are clear
Check your lights are working on all sides
Is your car battery fully charged?
Check your windscreen wipers are working and the washer bottle is filled with screen wash
Ensure you have an enough fuel before you set off
Check your tyre pressures and ensure they are inflated correctly (A minimum of 3mm tread so that they can cope with wet and slippery conditions)
Check your engine oil level to ensure you don't need to top it up
Driving: Severe Rain/Flooding
Increase the amount of distance as normal from the driver in front as rain reduces the ability to slow down and stop
Avoid applying too much pressure on the brakes on wet roads, brake gently well ahead of time
Use your windscreen wipers to keep your vision clear
Even in the daylight, use dipped headlights
Be aware of 'aquaplaning' by driving too fast and causing the tyre tread to lose contact with the road
Flooding
If you approach a flooded road do not attempt to cross it if you think it looks too deep (it's not worth the risk!)
The deeper water is most likely to be toward the kerb
Look for an alternative route if it is too deep
If you do decide to drive through it, avoid stalling by keeping the car in first gear and the engine speed high
Be aware of any resulting waves from approaching vehicles
Test your brakes once you have driven through any deep wate
Driving: Snow/Ice
De-ice your vehicle completely, make sure no snow is left on your vehicle
Leave earlier to provide more time in your journey
Snow-covered boots will slip on the pedals – wear dry shoes
Accelerate and decelerate slowly
Take more time to slow down as skidding can occur
Drive slowly to ensure you have enough time to manoeuvre
When driving downhill, drive in third or fourth gear to prevent skidding
Continue to clear your windows, lights, number plates and wheel arches frequently if you are driving in heavy snowfall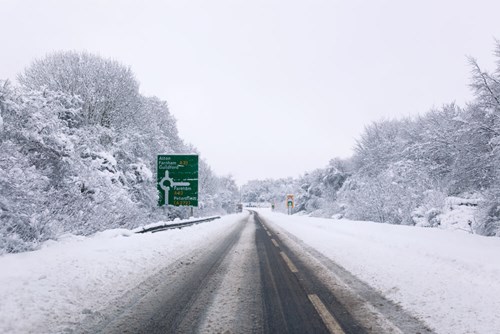 If you get stuck in deep snow:
Remain calm, do not attempt to force your car out of the snow without assessing your situation first
Ensure your exhaust remains clear if you continue to keep your engine running
If you can't give your car a hand by digging out some of the snow, see if there is any pedestrians nearby that can give you a push
If you are completely stuck, call your breakdown service
Try to avoid using your car heater to keep warm, use warm clothes
Driving: Fog
Switch on headlights and fog lamps
When in traffic, if you can see the headlights behind you, the drivers can see you so switch off your fog lamps to avoid dazzling them
Listen to what's going on around you so that you can hear any upcoming traffic
If you've broken down, call the police and then get the vehicle off the road - Leave warning lights on until the car is moved.
Reduce your risk and drive safe this winter time. Get involved with Road Safety Week and make your pledge by visiting the website here.
Are you a safe Driver and fancy a career in driving? Train with us! #Getbehindthewheel