There is no better feeling than accepting an offer for a job that you really wanted and knowing all that hard work paid off! Now it's time concentrate on phase two –  settling into your new job. Finding your feet at the beginning can be challenging, so we've got eight tips that will make the transition as smooth as possible.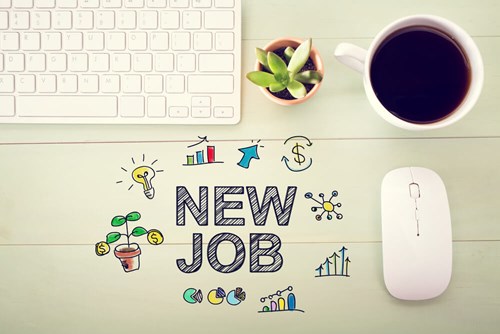 Keep your chin up
When you start a new job, it can be a rollercoaster of emotions as you're stepping out of your comfort zone. From day one, you're adapting to a new environment and learning the ropes. It's important to maintain a positive attitude and show your enthusiasm!
Build rapport
It can be easy to embrace your inner introvert in the first  few weeks of work, but it's important to put yourself out there and network from a safe distance of course or virtually. Start by introducing yourself instead of relying on your co-workers to do it for you and ask people what their roles entail.
Write everything down
Whether it's a name, a task you've been given or snippets of information of the company – be sure to make notes. With so much going in the beginning it's easy to forget key details so make sure you always keep a notepad close by!
Talk to the boss
Meetings with your boss are the perfect opportunity to make sure you're on the right track and doing everything that is expected of you. Don't be afraid to ask for a meeting if you have any questions or concerns.
Offer a helping hand
You want to impress and showcase your skills but it's always important to offer help to others from time to time when someone needs it. This is a great way to learn new skills, get involved with tasks you may not have been exposed to previously and to show your colleagues you're a team player!
Explore the company culture
To fully understand what your role entails and to settle in it's essential to immerse yourself in the company's culture. Use the first few weeks to absorb everything that is going on around you, ask questions and look in detail at the company's website.
Dress to impress
The few first weeks it's all eyes on you! Whether you're working remotely or at work with social distancing measures, ask your hiring manger what the dress code is and stick to it. You don't want to get caught on a video meeting in your pyjamas so whether it's business formal, casual or corporate clothing – make sure you look the part!
If you're still looking for your dream role, Pertemps has plenty of vacancies available across all sectors, so search our site today. If you're seeking more advice on life at work, we have plenty of blogs packed with tips!