Interviews can be a nerve-racking experience. Being exposed to a 60-minute, high-pressure meeting can be intense, without knowing what to expect or what they'll ask. But rest assured it can be just as stressful for interviewers, not just you in the hot seat.
Knowing job interview etiquette will help towards the success of your interview. We have provided some tips to help you shine on your big day.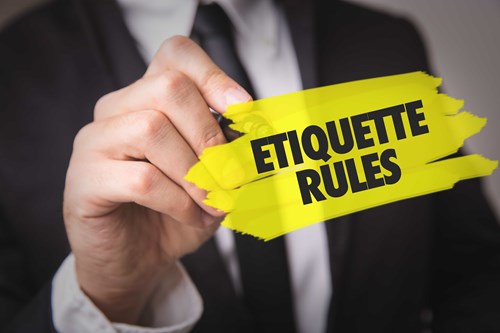 Research interview questions & prepare answers
You'll have to answer a mix of standard and some curve ball questions, whilst most employers now opt to undertake a competency-based interview. The more you prepare the more likely you are to succeed. Why not ask a friend or family member to run through some practice questions beforehand?
Don't be late
This goes without saying but you'd be amazed at the number of candidates who will still turn up late to interviews, regardless of it being a video or face-to-face interview. Punctuality is a trait that will go along way. Log in 10 to 15 minutes before hand, this gives you opportunity to relax, go over your notes and settle your nerves before your video interview.
Dress to impress
Video interviews follow the same rules and format as a face-to-face interview. Image is very important. It's the first impression on your interview that will stick, so it's important to dress appropriately when interviewing. Even though you are sitting down and can only be seen from the waist up, do not wear pyjamas no matter how tempted you are, always dress in business attire.
Turn your mobile phone off
Mobile phones need to be turned off and out of sight during an interview. Interviewers will think that you're not focused and there's nothing worse than a phone ringing at the most inappropriate of times! If that does happen, apologise immediately to the interviewer and turn it off.
Body Language
Body language is everything in an interview, whether it's in person or remotely, it's still crucial. Keep your back straight and learn forward slightly to indicate interest. Avoid crossing your legs and avoid fidgeting. Use your hands as these are natural gestures but use only when necessary or to make a point. Always maintain constant eye contact, it shows the interviewer that you're not intimidated and are actively listening.
Ask questions
Interviews are a two-way street. Asking questions will demonstrate your enthusiasm for the role. Try to link questions to something positive about your skill set or experience. Your potential employer is finding out about you, so prepare questions to ask your potential employers about the position and company to be sure this it the right job for you.
Thank you
Send a thank you note through email within 24 hours of your interview to express your thanks for the interviewer's time. It also reiterates your interest in the position.