We are all facing challenging circumstances during these unprecedented times and for those of you looking out for a new role, it may be affecting the way you job hunt.
With the majority of the UK working remotely, traditional interviews are increasingly being switched to other formats including video and we want to help you by providing you some useful and simple tips to help increase your chances to find your next job opportunity.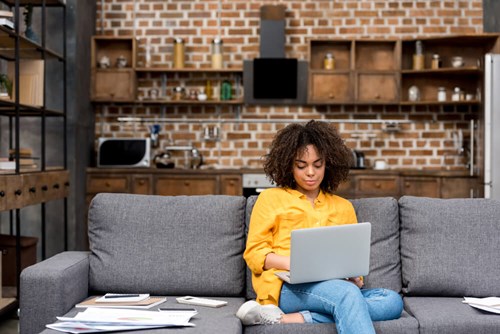 Keep in touch
We have a nationwide presence with dedicated and experienced consultants still on hand to help. We have hundreds of new jobs coming in every day, so make sure you check in with your local branch and they can support all your recruitment needs.
Face-to-face
Although you may not be able to meet your consultant in person, you can still speak to them through different applications such as Facetime, Skype and Zoom. Let them know which digital tool works best for you and they will do their best to contact you.
Video interviews
Let your consultants know that you are happy to conduct video interviews. This is a great way to get to know your consultant or employer.
Lights, camera, action
The setting you use for video interviews is crucial. Use a quiet location, where you can avoid distractions and noises. Make sure the room is tidy and clean with a simple background so that the recruiter focuses on you.
Dress to impress
You may be at home but it's still a job interview and first impressions are everything. You need to dress appropriately, the same way as if you were going to a face-to-face interview with the employer. Avoid busy patterns, stripes and colours – think about how your clothes look on screen.
Testing, testing 1,2,3 …
Test that the technology is working, ensure all your applications work and you know how to use them beforehand, test your internet speed prior to the interview. It's useful to do some practice video calls with friends or family to help build your confidence. Ask them for feedback about your appearance and eye contact. Practice until you feel more comfortable and natural with video interviews.
Body language
Body language is everything in an interview, whether it's in person or remotely, it's still crucial. Keep your back straight and learn forward slightly to indicate interest. Avoid crossing your legs and avoid fidgeting. Use your hands as these are natural gestures but use only when necessary or to make a point. Always maintain constant eye contact, it shows the interviewer that you're not intimidated and are actively listening.
Be punctual
This goes without saying but you'd be amazed at the number of candidates who will still turn up late to interviews, regardless of it being a video or face-to-face interview. Punctuality is a trait that will go a long way. Log in 10 to 15 minutes beforehand, this gives you opportunity to relax, go over your notes and settle your nerves before your video interview.
Ask questions
Interviews are a two-way street. Asking questions will demonstrate your enthusiasm for the role. Try to link questions to something positive about your skill set or experience. Your potential employer is finding out about you, so prepare questions to ask your potential employers about the position and company to be sure this it the right job for you.
Follow up and debrief with your consultant
Once you've finished your interview, get in touch with your recruitment consultant. This is your opportunity to debrief your recruiter about the interview - how it went, what went well and what are the next steps. The recruiter will also take the opportunity to provide interview feedback to you from the client.
At Pertemps we have taken necessary measures to ensure business continuity and protect essential services. We continue to deliver our services to the highest standards, whilst maintaining the health and safety and wellbeing of our employees and candidates.