We all live hectic lifestyles - juggling children, chores and work and it's easy to lose sight of what makes us feel physically and mentally healthy. We've picked out a couple of key things you can do to maintain a healthy lifestyle.
Power of water
Staying hydrated is proven to increase your concentration and even gives your skin a healthier glow – bonus! Dehydration on the other hand can cause headaches and decreased brain functions. Keep a refillable bottle with you at all times and beat the work slump by drinking water instead of coffee or tea.
Snack the right way
It has been proven that unhealthy snacks have negative effects and we've all experienced that post-lunch slump which comes from a sugar crash. Slow release foods such as fruit and nuts are great snacks between breakfast and lunch to keep you on the ball but avoid refined sugars and caffeine rich drinks.
Standing tall
Sitting for large periods of time can decrease your metabolism and there is even evidence to suggest that sitting for most of your day can potentially increase the risk of diabetes, strokes and heart attacks. Try having 'standing meetings' where possible and take regular breaks throughout the day to stretch your legs!
Keep your workstation clean
A cluttered workspace also clutters your mind which can cause your concentration to dip. By designating a small portion of your week to cleaning your work area, you'll likely see an increase in your organisation, a decrease in your stress and you'll waste less time looking for important things.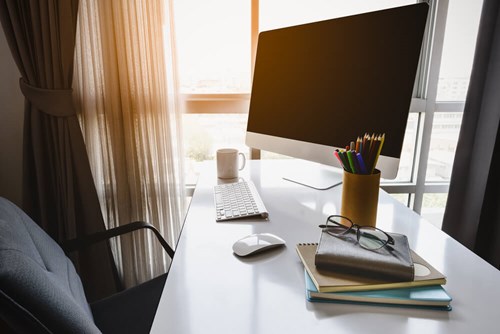 Know when to stay at home
The definition of 'picking your battles' can easily be attributed to coming into work when you are far too ill. This could increase the chances of your co-workers becoming ill and ultimately hinder your recovery. Instead, contact your manager and discuss with them when it's best to be back at work.
Employee feedback
You will undoubtably have ideas on how to make your workplace a healthier environment, but your manager isn't a mind reader! Submit feedback with feasible actions or schedule a meeting to bounce off some ideas. Be considerate of your manager's position as some of your ideas might not be practical for your business.
Considering a new career? A big change could be exactly what you need. Head over to our jobs page to discover new opportunities.