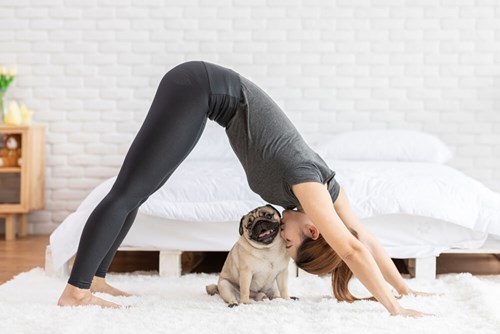 Looking for a new home hobby that excites you? Find a passion without breaking the bank:
Cooking
If you enjoy cooking but time wasn't on your side, why not revisit a potential passion.  There are tons of recipes and tutorials available online, so your only investment would be the ingredients. Create food you enjoy and make several servings to make the most of your hard work.
Yoga
There has been a surge in the amount of people rolling out their yoga mats and it's easy to get started. There are lots of online videos and plenty of yoga instructors are offering free live weekly sessions. All you need is some comfy clothes and a yoga mat and you're good to go!
Sewing
If you're no stranger to stitching and already have a sewing machine, this hobby will be easy to pick up again and can lead to lots of creative projects. If you're new to sewing, you can purchase a machine, ideal for beginners, for less than £100 - invest in inexpensive fabrics also to keep the cost low.
DIY projects
Becoming your own handyperson could be your new hobby this spring. Whether it's painting walls or upholstering furniture, getting involved with DIY projects could save you money in the long run and is a great way to connect with the people you live with.
Fitness
With all gyms closed, trainers are becoming more creative and creating all types of workouts with minimal equipment. Working out will improve your mental and physical wellbeing and your new hobby could soon become a healthy routine.
Learn a language
Not only would learning a language keep your mind stimulated, it could also boost your career prospects. The internet is your friend – you can choose one or multiple languages through online courses or you could invest in some books or audio to teach yourself.
Looking for your next job and need help prepping? We have you covered, take a look at our job advice.